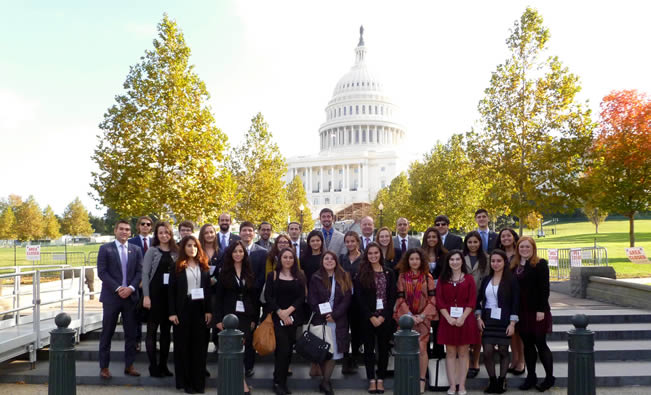 The Turkish Coalition of America (TCA) is pleased to announce the conclusion of its Third Annual Turkish American Youth Leadership Congress, November 3-6, 2016. Twenty-five young Turkish American college students, graduate students, and young professionals came away inspired to take a more active role in local and national politics and to become effective representatives of the Turkish American community.
Youth Congress delegates attended meetings and briefings with Turkish policy experts, congressional staffers, a U.S. Former Member of Congress, the U.S. Department of State, political activists, and leaders in the Turkish American community. Over the course of the weekend, they were able to network with other young Turkish Americans while learning about the U.S.-Turkey relationship and the political systems of both countries. They engaged in an active dialogue on the state of U.S.-Turkey relations and the 2016 U.S. election, and they also learned about the role of citizens in policy-making and the steps they could take to be successful Turkish American advocates.
Delegates toured the U.S. Capitol and the Turkish Ambassador's historical residence, and their visit to the nation's capital was topped off with a jazz concert at the historic Howard Theatre and a tour of the monuments on the National Mall.
On the occasion of the Youth Congress, TCA received video messages from three of the co-chairs of the Congressional Caucus on U.S.-Turkey Relations and Turkish Americans: Congresswoman Virginia Foxx (R-NC/5th), Congressman Gerry Connolly (D-VA/11th), and Congressman Steve Cohen (D-TN/9th); two prominent Turkish Americans: Cenk Uygur, co-founder of the Young Turks Network and a leading Turkish American political commentator, and Judge Jay Karahan, Harris County/Texas Criminal Court and the highest elected Turkish American; and Turkish German Parliamentarian Belit Onay, a member of the Green Party in Germany.
2016 Youth Congress Delegate Biographies
Zeynep Ella Abat
Originally from outside of Chicago, Ella is a sophomore at DePaul University where she studies Business and Computer Science. She is on the crew team and she enjoys swimming and snowboarding. This last summer she was a TCA Washington Summer Intern, and she interned with the office of Congressman Adam Kinzinger (R-IL/16th)

Burak Adanur
Born and raised in Auburn, Alabama, Burak is a senior in Aerospace Engineering at Auburn University. He is currently involved with Auburn University's University Student Launch Initiative (USLI) team. Following graduation, he would like to get a Master's Degree in Engineering and eventually work for an engineering company.
Hannah Amado
Hannah grew up in Columbia, South Carolina, and is currently a senior at Agnes Scott College in Atlanta, Georgia. She is pursuing a BA in Political Science with a focus on Human Rights and a minor in Religious Studies. She holds a number of leadership positions on campus, including President of the senior class and Vice President of her campus's Programming Board. In the spring of 2016 she studied International Relations abroad at Yasar University in Izmir. She is interested in pursuing a career in International Affairs, specifically in development, and plans to attend law school.
Zeliha Arslan
Born in Istanbul, Zeliha moved to High Point, North Carolina when she was 11. She is currently pursuing her JD in International Law at Florida Coastal School of Law, where she is part of both the Women Law Students Association and the International Law Students Association. She also volunteers for Bridge to Turkiye Fund and the American Turkish Association of North Carolina. After graduation, she would like to work for the United Nations Commission on the Status of Women or any other international organization that works to better society.
Doga Barut
Doga Barut is a sophomore at Florida Atlantic University majoring in Psychology with a minor in Political Science. Originally from Istanbul, she is involved in a variety of activities on campus including volunteer work for kids with special needs. In the future, she plans on attending law school.
Kathryn Birdyshaw
A junior at the University of Florida, Kathryn is studying Linguistics with a minor in International Development and Humanitarian Assistance. She was born in Adana, Turkey, and grew up in Lake City, Florida. She is currently the secretary of the Turkish Student Association, a Language Assistant at the English Language Institute, and a member of Gators for UNICEF. In the future, she plans on pursuing a career in International Development and Education.
Deniz Demirci
Deniz was born in Flint, Michigan and currently lives in Connecticut. She attended high school at Choate Rosemary Hall and is now a sophomore at Boston College, where she is majoring in Political Science with an Arabic Studies minor. Deniz is a staff writer for the Arts page of the Boston College newspaper, The Heights, and also works for the Boston College radio station, WZBC FM. This summer, she interned at the Union of Chambers and Commodity Exchanges of Turkey (TOBB). She hopes to attend law school after graduation.
Kenan Demren
Kenan was born in Paris, France, to Turkish parents before moving to South Florida with his two younger sisters. He is a junior studying International Business at Florida International University. He is also the founder of his company, Cofoundr Corp, which assists student entrepreneurs in creating their own startups by supplying them with resources, co-founders, and ultimately investors. He plans to continue to found and work with other start up companies in the future while helping others do the same.
MaryJane Dumankaya
MaryJane Dumankaya is a graduate of New York University, where she was a Presidential Honors Scholar and Thomas Sweeney Scholar. A native New Yorker, she studied abroad in London, participated in a scholars' symposium in Beijing, and engaged in multi-faith dialogue in Abu Dhabi. In pursuit of her honors degree in international relations, she completed a senior thesis on natural resource wealth and authoritarian regime survival. She has interned at the Permanent Mission of Turkey to the UN and as a TCA intern in the Office of Congressman Hakeem Jeffries (D-NY/8th). She currently works at the NYU Department of Politics and hopes to attend graduate school in the future.
Eda Eken
Eda is a first generation Turkish-American and grew up in Coconut Creek, Florida. She attends the University of Florida and junior Nutritional Science major on the Pre-Physician Assistant track. She is currently the President of the Turkish Student Association at the University of Florida, and is also a member of Alpha Epsilon Delta Pre-Health Honor Society. After graduation, she plans to apply to Physician Assistant School, work as a traveling Physician Assistant, and volunteer in underprivileged areas.
Ismail Ercan
Ismail is a sophomore at Vanderbilt University. He is a Political Science and Music major, and is hoping to minor in Spanish as well. In addition to interning with the office of Congressman Alan Grayson (D-FL/9th) this last summer as a TCA Washington Summer Intern, he previously interned at the Miami Herald where he worked as a community reporter. At Vanderbilt, he has written for the school newspapers, played violin for the Vanderbilt University Orchestra, has played on the club tennis team, and had a weekly show on the campus radio station. He is planning on attending law school and is strongly considering a career in public policy or political journalism. In his free time he enjoys writing and performing violin duet pop covers in his group Four Strings Attached.
Pinar Gezgec
Born and raised in Gaithersburg, MD, Pinar is a junior at the University of Maryland, College Park studying History with a concentration in the Middle East. She recently became the creator and president of the Turkish Student Organization on campus and has worked to bring together non-Turkish students with Turkish students in the community. In the future, she wants to work in international relations or public policy and focus on the relationship between the U.S. and Turkey.
Adam Karayel
Adam was raised in Istanbul, Turkey, and previously studied Engineering at Istanbul University. Currently he is a senior at the University of Florida pursuing a degree in Chemical Engineering. His bi-cultural background and focus on U.S.-Turkey relations has led him to a number of volunteer opportunities and roles in the community. This summer he was an intern with the office of Congressman Alcee Hastings (D-FL/20th) through the TCA Washington Summer Intern Program.
Madina Khurishanova
Madina is Ahiska Turkish. She was born in Russia and immigrated to the U.S. in 2006. Currently she is a sophomore at George Mason University majoring in Health Administration and is planning to attend medical school after graduation. At George Mason, she is working on social justice and human rights advocacy. This summer, she interned at the Turkish Heritage Organization (THO) through the TCA Washington Summer Intern Program.
Buse Ors
Buse is a first generation Turkish American from Dallas, Texas. She is a senior Katsikas Scholar at the University of Texas at Arlington studying Political Science with a specialization in International Relations. Most recently, she interned with an NGO called Refugee Services of Texas and last summer she studied abroad at Boğaziçi University. She is also involved with the Turkish Student Association on campus and an officer of the Pi Sigma Alpha UTA Chapter. After graduating, she plans to move to London to pursue an M.A. in International Relations.
Lauren Ozdemir
Lauren was born and raised in Stratford, Connecticut. She is currently a senior at Eastern Connecticut State University in Willimantic, CT, and is pursuing a bachelor's degree in Business Administration with a double concentration in Marketing and Finance and a minor in Economics. Over the summer she completed an internship at PriceWaterhouseCoopers. After she graduates, she plans on getting a job in finance and pursuing her graduate degree.
Muhammet Ozdemir
Originally from Ludlow, Massachusetts. Muhammet is a sophomore at the University of Massachusetts-Amherst majoring in Psychology and Neuroscience on the Pre-Medical track. He plans to apply to medical school and would like to be a brain surgeon. He is a volunteer for Turkish-American Society of Western Massachusetts and for a nursing home in Amherst, and he is also a Research Assistant in a neuroscience and a biochemistry lab.
Yusuf Ozen
Originally from Rochester, New York, Yusuf is a junior at the Rochester Institute of Technology majoring in International and Global Studies with a minor in Arabic. After graduation he plans to continue on to graduate school and eventually would like to pursue public office. His hobbies include watching documentaries, reading, traveling and cooking. This past summer he interned with the offices of Congressman Frank Guinta (R-NH/1st) and Congressman Henry Cuellar (D-TX/28th) through the TCA Washington Summer Internship Program.
Anne Layton Oztekin
Originally from just outside of Birmingham, Alabama, Anne Layton is a sophomore at the University of Maryland studying Arabic Studies and Linguistics. She is currently learning Turkish in school, and hopes to one day utilize her Turkish skills in her career. This summer she interned with the office of Congressman Robert Aderholt (R-AL/4th) and with the Turkish Coalition of America.
Eren Oztunc
Eren is a sophomore at The George Washington University studying International Affairs through the Elliot School of International Affairs and minoring in Economics. She is currently an intern at the Turkish Coalition of America and is also involved in her university's Turkish Students Association. Eren plans to attend law school after completing her undergraduate degree.
Efe Ozturkoglu
Efe is a freshman at the Rochester Institute of Technology in Rochester, NY, where he studies Software Engineering. As a military child, he lived in numerous places while growing up including Turkey, Mississippi, and Delaware. Throughout his high school education, he served as the president of his school's chapter of the Technology Student Association and Vice President of the Honor Society chapter. In the future, he would like to start a software development firm or pursue a career as a programmer.
Theresa Reichstadt
Originally from Minneapolis, Minnesota, Theresa is a rising Sophomore at The University of Tampa. She is studying Economics and minoring in Government World Affairs with a concentration in the Middle East. She is involved in PEACE, the volunteer center on Campus and also participates in the Adam Smith Society and Investment Club. This past summer she also interned at the American Turkish Council (ATC) through the TCA Washington Summer Internship Program. She enjoys running and doing anything outdoors, as well as painting and photography. She would like to work on economic policy between the U.S. and Turkey after finishing school.
Ela Serra Sutcu
Ela is from Saint Louis, Missouri and attends Saint Louis University. She is a sophomore studying in Art History and Communications with a concentration in Advertising and Public Relations, and she plans to continue her education by going to graduate school in the future. She is involved with Gamma Phi Beta sorority as a New Member Educator Assistant, Social Media Assistant, and Banner Designer, and is the Director of Marketing & Public Relations for Amnesty Club and Italian Club. She also plays on the Club Volleyball team and is a member of Art Club and Green Billikens.
Yilmaz Yoruk
Yilmaz Yoruk is a first generation Turkish-American born and raised in Rochester, NY. He has a passion for travel in order to experience new cultures and traditions and to gain knowledge of the global community. He is finishing his Master's of Public Health from the State University of New York at Buffalo. In the future, he wants to work on U.S.-Turkey relations and to advance grassroots Turkish American engagement in the socio-political process.
Ahmet Yucesoy
Ahmet grew up in Chicago, Philadelphia, and Saint Louis. He attends Washington University in Saint Louis, where he is a senior studying International Affairs and Arabic. His academic interests are in the history of the Middle East and its languages, cultures, and religion. After graduation Ahmet plans to study Arabic while also conducting research on the Ottoman Diaspora. Eventually, he plans to get a graduate degree.