As of December 2016, the Turkish Coalition of America (TCA) has distributed $100,000 in humanitarian grants to Syrian refugees in Turkey, marking the conclusion of TCA's Syrian Refugee Matching Campaign launched in the summer of 2016. TCA would like to thank the Turkish American community and friends of Turkey for their generous donations to the campaign. Humanitarian grants were given to fund specific project requests from local organizations working directly with refugees on the ground in Turkey including: Refugee Volunteers of Izmir (ReVi), Butun Cocuklar Bizim Dernegi (All Children Are Ours Foundation), and Sureli Destek (Periodic Support).
Refugee children in Sanliurfa, Turkey wearing their new winter coats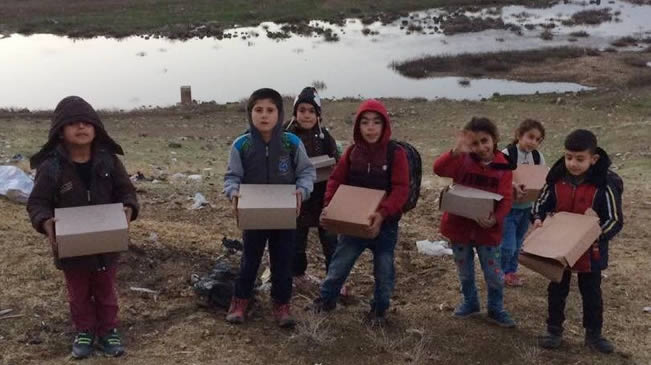 Refugee children in Mardin, Turkey receiving boots for the winter
With the TCA grant, Butun Cocuklar Bizim Dernegi and Sureli Destek provided winter clothing and boots to over 1,000 children in Batman and the Fatih, Okmeydani, and Kucukcekmece districts of Istanbul. They also provided refugee families with food, hygiene products, school supplies, heating supplies, and transportation support to refugee families. Thanks to the grant, Sureli Destek will be able to continue providing aid to families for the next five months.
ReVi is currently supporting 400 families in the Basmane, Kadifekale, and Ikicesmelik districts of Izmir and has recently opened two schools that serve over 120 children ages 5-12. TCA's humanitarian grant supports teacher salaries, rent, school supplies, food and hygiene products, materials for bracelets and knitted products, and renumeration for families involved in ReVi's bracelet making and knitting program. Bracelets and knitted products can be purchased through their online store at http://revistore.org. TCA's grants will allow ReVi to continue its operations for the next four months.
(Left) Children working on art projects at ReVi's school in Izmir, Turkey
(Right) Children in refugee camps outside of Izmir, Turkey who received knitted products from families in ReVi's knitting program.
TCA has previously made significant humanitarian donations to victims of natural disasters in Bosnia and Herzegovina, the Philippines, Haiti, and Mexico as well as to Chaldean refugees in Turkey who were displaced by the wars in Iraq.