Number 263 | April 16, 2014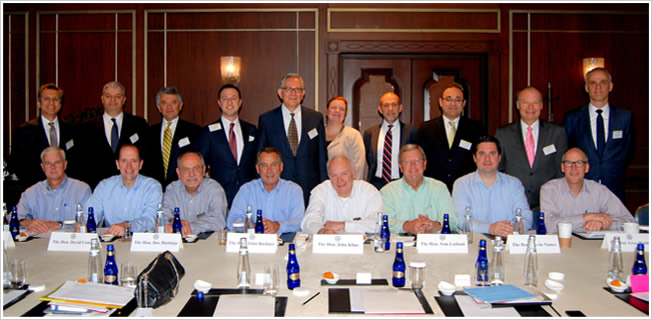 Standing, from left: Emin Ozkan-Goodyear, Koray Arikan-JPMorgan, Coskun Ulusoy-OYAK, Ekim Alptekin- EA Group, Dr. Yalcin Ayasli-TCA, Canan Ozsoy-GE Turkey, Sinan Ceylan-The Walt Disney Corporation, Oguz Toprakoglu-Ford Otosan, Lincoln McCurdy-TCA, Mehmet Pekarun-Sabanci Holding
Sitting, from left: Steve Womack (R-AR), David Camp (R-MI), Doc Hastings (R-WA), John Boehner (R-OH), John Kline (R-MN), Tom Latham (R-IA), Devin Nunes (R-CA), Greg Walden (R-OR)
Speaker of the U.S. House of Representatives John A. Boehner visited Turkey this week, as part of a multi-country trip to the region. The Speaker was accompanied by a high-level congressional delegation, which included Representatives David Camp, Chair, Committee on Ways and Means; Doc Hastings, Chair, Committee on Natural Resources; John Kline, Chair, Education and the Workforce Committee; Greg Walden, Chair, Subcommittee on Communication and Technology; Devin Nunes, Chair, Subcommittee on Trade;Tom Latham, Chair, Subcommittee on Transportation, Housing and Urban Development; and Steve Womack, Appropriations Committee.
TCA Chairman Dr.Yalcin Ayasli hosted Speaker Boehner at a round-table in Istanbul on April 16, bringing the congressional delegation together with senior executives of American companies in Turkey and Turkish businesses with significant investments in the United States. Among the companies represented at the meeting were GE, Ford Otosan, Goodyear, JP Morgan, The Walt Disney Corporation, Sabanci Holding, OYAK and EA Group. Charles Hunter, U.S. Consul General in Istanbul was also present at the meeting.
Commenting on the Speaker's visit to Turkey, Dr. Ayasli stated "It is our hope that Speaker Boehner's first formal visit to Turkey will play a constructive role in expanding U.S.-Turkey economic relations. We take this opportunity to once again thank the Speaker for his leadership in Congress in support of strong U.S.-Turkey relations."
At the meeting, Speaker Boehner said that the United States has a long history of friendship with Turkey and as the most important ally of the U.S. in this part of the world, nurturing this relationship with Turkey was important. The Speaker stated that the delegation's visit was to "show the political and business leadership that we value this relationship and find a way to further it."
The discussion centered on American business activities in Turkey and the developing interests of Turkish companies investing in the United States. Also discussed was the potential for greater economic ties between the two countries, especially in the context of the Transatlantic Trade and Investment Partnership.