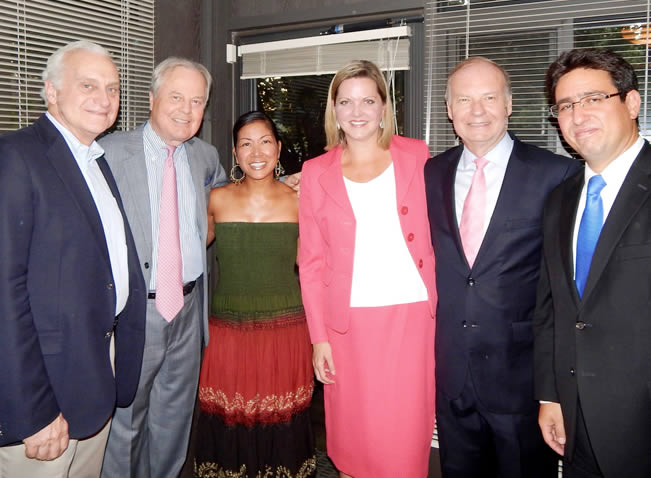 Left to right: Ambassador Francis Ricciardone, Congressman Ed Whitfield, Delegate Kris Valderrama,
incoming U.S. Consul General Jennifer Davis, TCA President G. Lincoln McCurdy, Turkish Embassy Spokesman Aydan Karamanoglu
On July 29, 2016, TCA hosted a reception in honor of incoming U.S. Consul General in Istanbul Jennifer Davis and her husband, Nick Davis. The reception served to introduce them to members of the Turkish American community and officials working on Turkish issues in Washington, DC. In attendance were Turkey Caucus Co-Chair Congressman Ed Whitfield (R-KY/1st), former Member of Congress Jim Moran (D-VA/8th), former U.S. Ambassador to Turkey Francis Ricciardone, members of the Maryland House of Delegates Dan Morhaim (D/11th) and Kris Valderrama (D/26th), former U.S. diplomats who had served in Turkey, representatives from think tanks and Turkish American organizations, and members and friends of the Turkish American community. Earlier in the week, Davis visited the TCA office in Washington, DC and received a briefing on TCA and TCF.